Elizabeth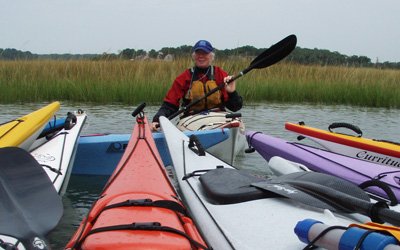 Elizabeth O'Connor - Dayton has been working and playing in and around boats of all types for most of her life. Although her business is centered on providing skills training for sea kayak, river kayak and canoe, she has had a passion for competitive racing. In the early 2000's she competed at the National level, winning the Woman's Sea Kayak marathon championship five years running. In her fifth year she won both Sea Kayak Marathon and ICF Marathon on consecutive days. In 2003 she was the top scorer on the US Team at the ICF Marathon Worlds Championship in Valladolid, Spain. Later she began to focus on sprint racing, mainly through the NY State Games, where she captained the Long Island Team for three years running. Today she continues to race for fun and coaches paddlers interested in improving their competitive skills.
Elizabeth brings these same high standards to skills training where she is certified as ACA Open Water Coastal Instructor (L4) and a River Kayak Instructor (L2) and a Touring Canoe Instructor (L2). Whether teaching a novice or an advanced paddler she has the tools and the experience to get students off on the right foot and help them overcome most every difficulty as they advance as paddlers. "We relish the opportunity to bring the beginner from entry to advanced level, and are happy to work with the experienced paddler who wishes to hone their skills."
More recently Elizabeth has been certified as an Instructor Trainer by the American Canoe Association for Coastal Kayak for levels I - IV. In addition to the interesting challeng of developing and certifying new Instructors, she also enjoys training and assessing padders and trip leaders for clubs and shops. Elizabeth is also certified in Wilderness First Aid through Stonehearth Outdoor Learning Opportunity. She also has the ACA Adaptive Paddling Endorsement to train paddlers with disabilities.
Elizabeth has a strong motivation to give back to the sport that has given her so much. She has served as the Divisional Instructional Facilitator for the Atlantic Division of the ACA for most of the last decade. As part of the position she also serves on the Safety Education and Instrucion Council of the ACA - the body responsible for curriculum development on the national level. From 2005 - 2010 she organized the annual Long Island Paddlesport Symposium a free to the public training symposium geared to provide new paddlers with basic skills and safe practices. In 2008 she won the ACA "Joe Pina Volunteer of the Year" award for her years of pro-bono contributions to the sport of paddling.
Trained in Equestrian Studies, Elizabeth has worked for 20 years as an Environmental Educator. This past expertise allows her to bring dimensions of interest to training, tours and camps programs that make for a rich and rewarding experience.